Landscape with a Shepherd and Shepherdess
lorrain_claude.jpg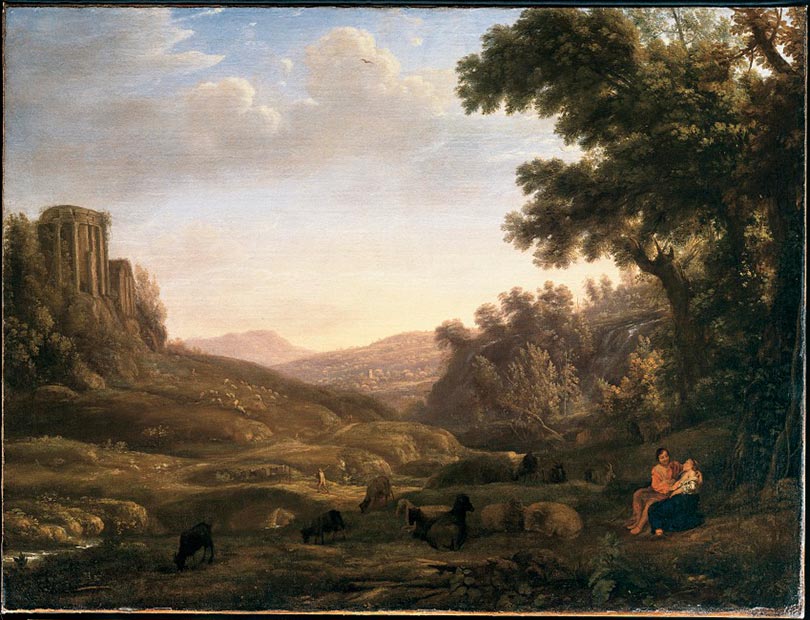 Lorrain, Claude (French, 1604-1682). Landscape with a Shepherd and Shepherdess. About 1636. Oil on canvas. 29 1/8 x 38 1/4 inches.
Hood Museum of Art, Dartmouth College, Hanover, NH; Purchased through gifts from Kirsten and Peter Bedford, Class of 1989P and Julia and Richard H. Rush, Class of 1937, Tuck 1938 and through the Mrs. Harvey P. Hood W'18 Fund, the Guernsey Center Moore 1904 Memorial Fund, and the Katharine T. and Merrill G. Beede 1929 Fund.
Purchased through gifts by exchange from Mr. Richard Andrew Aishton, Class of 1918, in memory of Mrs. Kate Aishton Mecur; Ralph Sylvester Bartlett, Class of 1889; Mrs. Frank U. Bell; Mr. and Mrs. Paul S. Cantor, Class of 1960; Mrs. Moses Dyer Carbee; Bernard Grebanier; Evelyn A. and William B. Jaffe, Class of 1964H; Ruth M. and Charles R. Lachman; Bella C. Landauer, Class of 1923P; Mr. and Mrs. Charles F. McGoughran, Class of 1920; Richard H. Mandel, Class of 1926; Earle W. Newton; Mr. and Mrs. Klaus Penzel; Anton Adloph Raven, Class of 1937H; Eleanor St. George im memory of her husband, Charles St. George; Mr. and Mrs. M. R. Schweitzer; Mr. and Mrs. John F. Steeves, Class of 1911; George C. Stoddard, Class of 1918; Howard Swift, Class of 1952; Mr. and Mrs. Jesse D. Wolff, Class of 1935; Dr. Myron Wright, Class of 1937 and through the Julia L. Whittier Fund and the William B. Jaffe and Evelyn A. Jaffe Hall Fund.